Seijin No Hi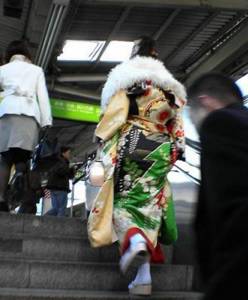 Today was
Seijin No Hi
, or Coming of Age Day, which marks the passage of all twenty year olds into official adulthood. On this day, the "new adults" gather in their respective districts for a special ceremony, sometimes bumping into friends they haven't met since elementary school.


The young men typically wear a formal black suit.

But the young ladies--waaay more fun. In the midst of crowded streets and train platforms, they are small explosions of color and texture, and primped from head to toe: Hair intricately arranged, pinned, and adorned. Makeup expertly applied. The deliberately exposed nape protected by a big puff of fur while outdoors. Body painstakingly wrapped in a shimmering, jeweled-tone kimono with elegant sleeves that pool almost to the ground--the sign of a young, unmarried woman. Feet encased in sleek tabi and zori.

From what I can tell, Seijin No Hi seems like just a good excuse--and one of the rare occasions--for young women to dress up in kimono. These days, if you see someone wearing a kimono, it is invariably an older woman. The kimono is definitely not easy to wear. I had two experienced ladies helping to dress me in kimono for my wedding, and despite the fact that they were working as fast as possible, it still took them a whole hour. For that reason alone, I can understand why the kimono is losing out to dresses that you can slip on in seconds.

It is a pity, though, for the flocks of girls in kimono that I saw today looked absolutely lovely.

For more info on Seijin No Hi, this is a good article.